Cuckoo By Richard Wright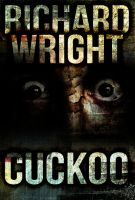 Greg Summers knows the answers to the questions. Until one day he returns home to discover that his wife no longer recognises him; that his wife is married to another man called Greg Summers.
Perhaps it is an elaborate hoax, yet that wouldn't explain the vivid flashbacks to his childhood, or the violent eruptions of blood that accompany them. Nor does it explain the stray memories that seem to belong to an entirely separate man called Richard Jameson.
One of these men is a lie, and neither wishes it to be he. On the run from a creature that cannot exist, his comfortable truths shattered, Greg finds his whole knowledge of the world questionable. If he does not know himself, what can he trust himself to know?
Greg Summers and Richard Jameson are about to discover that the fight to survive is all in the mind…
I first discovered Richard Wright, almost a year ago when I picked up the rather excellent Hiram Grange series, Richards entry in the series was a particular favourite. So when I found out that Richard had re- issued his début novel I was rather pleased.
It takes a great deal of talent to right a book like this, when we are first introduced to Greg Summers, he comes across as an extremely unlikable character, a philandering, arrogent cheat, however by the time he has left the hotel, you cannot help but feel compasssion for the situation he has found himself in. To the reader it looks like he is in the first stages of a mental breakdown, having become confsuded about booking into an hotel, suffering from blackouts. However, Richard Wright isn't going tp leave the story this simple.
What follows is an extremely wild, roller-coaster of a novel, that will keep you saying just one more chapter. The plot and action comes thick and fast with a scale of tension that is off the scale. In the hands of a less talented author, this novel could easily have fallen into the mould of a schlocky horror novel from the terrible 1980's. You know the ones, the ones with the terrible covers. Rest assured Richard balances the action with some great writing about the nature of identity, self and ego. Yes there is a slimy pus ridden monster, and you would think its inclusion in this story would be stupid, but it in no way comes across as this.
This novel will keep you guessing throughout, you will be trying to figure out what this story is all about, personally I say don't even try, you not figure it out, unless you're way smarter than me. There are more twists and turns than a level of Sonic The Hedgehog. At no point does this novel, feel forced or contrived, yes the story id fantastical, but Richards natural prose and style manages to make this book feel real. It takes a lot to to produce a book that is so thrilling yet thought provoking at the same time, and Richard has talent in bucket loads.
I would suggest you just get a comfy chair and set aside the day, then immerse yourself in a bloody good book.
Buy it by clicking below

http://rcm-uk.amazon.co.uk/e/cm?lt1=_blank&bc1=000000&IS2=1&bg1=FFFFFF&fc1=000000&lc1=0000FF&t=theginnutofho-21&o=2&p=8&l=as4&m=amazon&f=ifr&ref=ss_til&asins=B005JFRRAW